The Official Football Merchandise Store

Declan Rice has angered many West Ham United fans with what he was seen doing before his first Premier League match with Arsenal.
A new era began for Declan Rice, West Ham and Arsenal on Saturday.
For the Hammers it was life after Dec and for the Gunners it was the start of what Mikel Arteta hopes will be a stronger title challenge to Man City with him in the side.
Ex West Ham skipper Rice completed a £105m move to Arsenal last month – a British record transfer which already looks set to be broken by Chelsea's £115m signing of Moises Caicedo.
There is no hiding the fact Rice has divided West Ham fans with his move to Arsenal.
Arsenal supporters have been taking great delight in snatching away West Ham's crown jewel. And the move has cut many Hammers fans deep, even if there has never been a great rivalry between West Ham and Arsenal.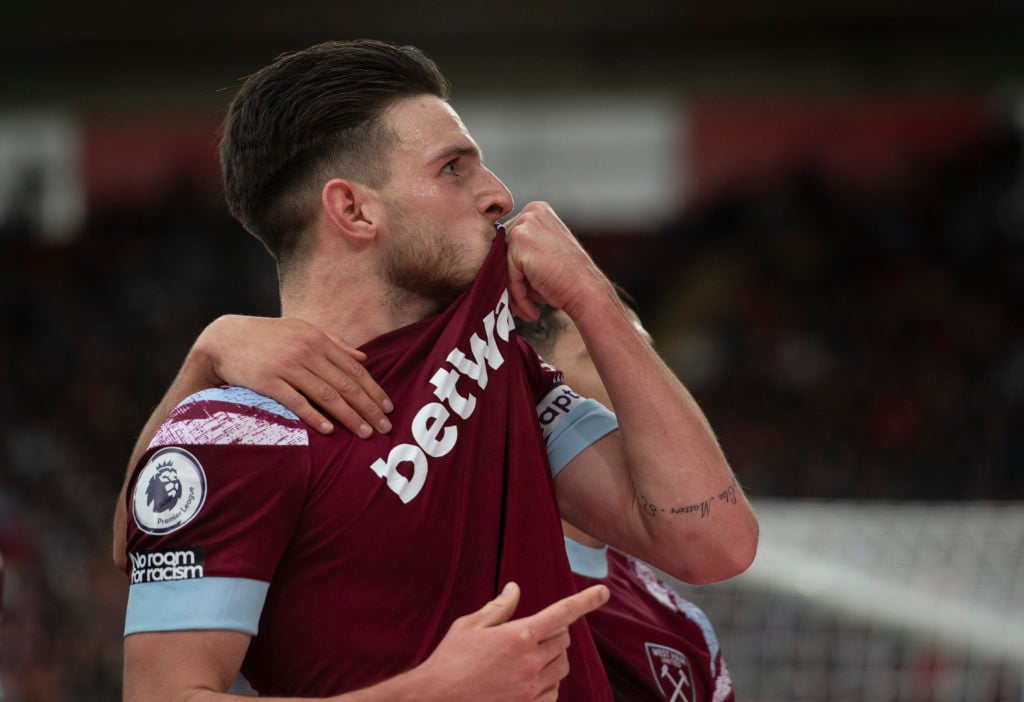 MORE WEST HAM STORIES
Declan Rice angers many West Ham fans with what he was seen doing before Arsenal match
West Ham fans loved what Rice embodied about their team. And they used to take great pleasure in cameras capturing him running out on the pitch singing along to bubbles.
Rice was missed as West Ham surrendered a 1-0 lead to draw 1-1 at Bournemouth in the season opener. And the midfielder helped his new side hold on to beat Nottingham Forest 2-1 at the Emirates.
Some of Rice's comments since joining Arsenal have irritated Hammers supporters. Obviously there is an element of a new player having to lay on the charm for his new fanbase which is to be expected.
But comments about the training, the standards, the stadium, his new manager and his new teammates have rankled. As have his declarations: "I'm a Gunner now" and about seeing football 'in a complete different way' since moving to the Gunners.
Now Rice has angered many West Ham fans with what he was seen doing before the Arsenal match.
In a pre-match huddle – where many have stated they feel Rice was clearly aware the camera was trained on him – the ex Hammer was seen singing – or at least mouthing – along to the club's new anthem 'North London Forever'.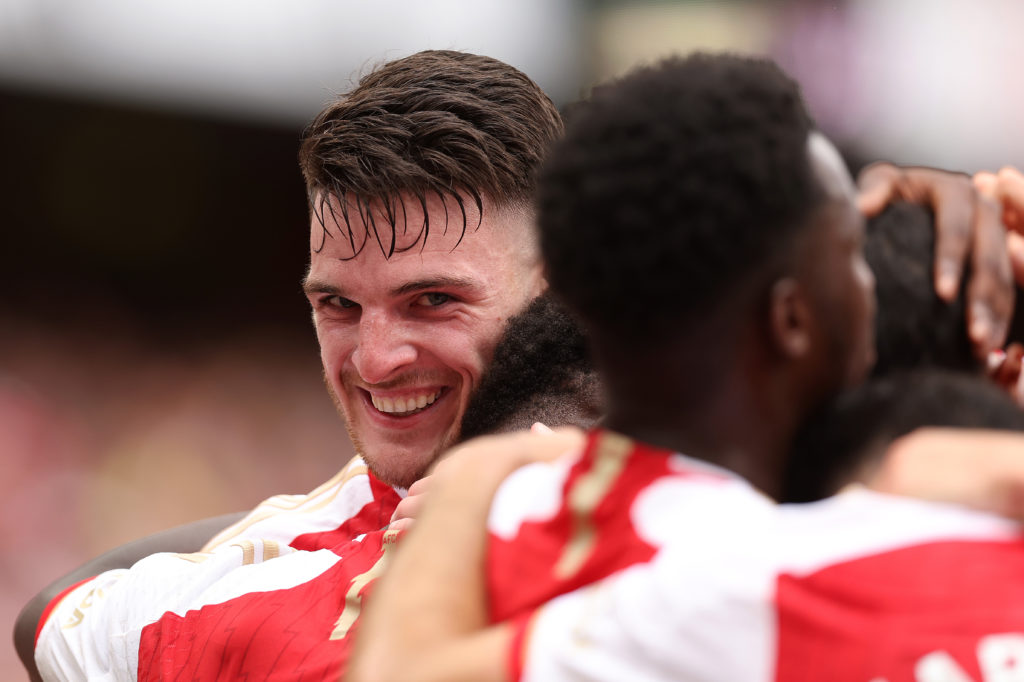 I'm (North London) Forever Blowing Bubbles…
Arsenal fans have understandably been lapping it up. And many have wasted little time sharing it on social media as evidence that he is "proper Arsenal" now.
Many West Ham fans have taken it badly, feeling somewhat let down given it was a matter of weeks ago he was singing along to bubbles and declaring the Hammers had the best supporters in the world.
You can see it in the post below and make your own minds up.
With Rice, most West Ham supporters accepted his wish to want to play Champions League football and perhaps play for a more progressive team and manager.
But perhaps many were not prepared to see the £105m man make such public shows of affection for his new side so soon.
West Ham fans cannot afford to watch his every move and action like bitter, jilted ex lovers, though.
And making some exciting new signings of our own will certainly help with that.
Rice is the type of character who fully throws himself into everything he does in life. So West Ham fans should not take this to heart or view it – like so many are – as a betrayal.
There is a middleground to be found with the Rice situation. We must be grateful for the time we shared together at West Ham. But ultimately he has moved on and so must we.
READ ALSO
Related Topics
The Official Football Merchandise Store Liverpool Chelsea Manchester City Arsenal Tottenham Hotspur Manchester United Leicester City Newcastle United West Ham United Barcelona Real Madrid

Source link